To celebrate World Folklore Day (22nd August) we are offering 50% off five folklore titles so that you too can become a folkloric fiend and celebrate this day in style!
Simply enter FOLKLORE50 at checkout, offer valid until 9am GMT on Wednesday 23rd August. 
An illustrated guide to the folktales and real-life stories of the ghosts, monsters and demons of India, a culture famously rich in tradition and legends.
Tap into folklore and nature with this new oracle deck. These 60 beautifully illustrated cards feature famous characters, plants and animals from across UK and US folklore, from White Bison and Sasquatch (Big Foot) to Herne the Hunter, Sheela-na-gig and the Green Man.
A comprehensive, entertaining and authentic collection of English folktales, featuring a foreword by Neil Gaiman. Read these classic tales as they would have been told when storytelling was a living art — when the audience believed in boggarts and hobgoblins, local witches, cunning foxes and royal frogs. 
Bestselling author and online curator Stephen Ellcock selects pivotal images to chart the fiery and chaotic spirit of England as it has developed over several thousand years. With texts by novelist and musician Mat Osman that reclaim Albion as an unhinged and rebellious magical kingdom that is open to all.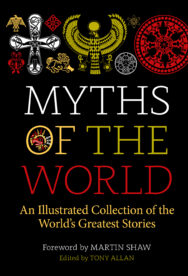 This beautifully illustrated book offers the most readable collection of myths on the market, perfect for readers diving into the current popularity of folklore and mythology. Handpicked from various cultures and eras, this gorgeous gift edition takes you on a journey across the globe with over 240 enthralling myths.